Tuition Class for Class 10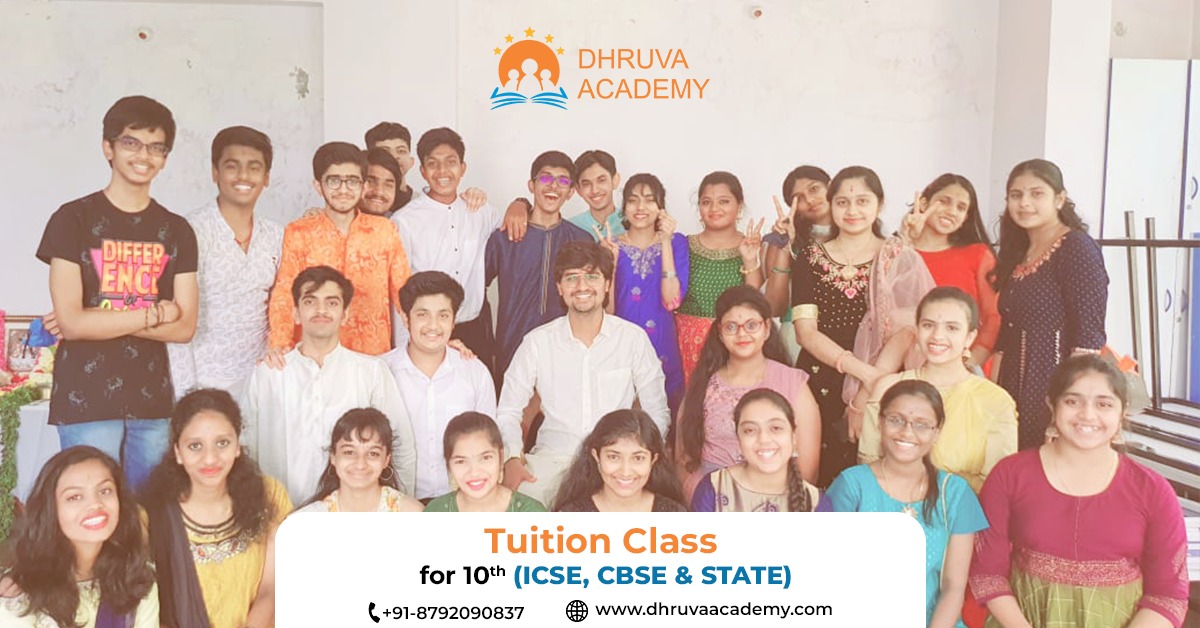 Class 10th represents a turning point in a student's career. Class 10 is also known as Board Exam Class, so students are not only excited but also nervous about doing their best. This plays an important role in helping students choose higher class streams. At Dhruva Academy, we offer the best coaching for class 10 near me for simplifying the class 10th preparation so that students can clearly understand the concepts that help them overcome their fears. Our goal is to teach all students in 10th grade to an excellent standard in subjects such as science and math. Our practical educational philosophy helps students gain a deeper understanding of each topic.
Tuition Class for class 10 near me
Are you looking for the best 10th tuition classes near me? Dhruva Academy can help you prepare for the class 10th exam. At Dhruva Academy, our teachers are constantly striving to create an interactive and rewarding classroom environment for our students. Our curriculum is carefully designed by integrating all the key aspects of the school board (CBSE, ICSE and Grade 10 Government Committees). As a result, the tutorial is very sympathetic and comprehensive. We have objective content designed with in-depth knowledge of how young characters adapt well. There is an ongoing effort to instill a thirst to learn more by presenting the topic in a diverse and lively approach.
How to ensure that your child is growing in terms of learning?
A well-thought-out continuous flow of homework is crucial to ensure that students spend enough time on self-study. At Dhruva Academy, we have developed tests/assignments as a result of extensive research to ensure the efficiency of our tuition for class 10 CBSE. Dhruva Academy has a very robust test mechanism to ensure your child's development in terms of learning. Our tutors take regular assignments and mock tests (according to the board pattern) to help students continue to study throughout the year. It also serves as an early guide to preventing unexpected results from the final.
Subjects for Class 10 with different boards
If you are looking for the top science tuition near me for class 10, Dhruva Academy is the best choice and has a dedicated instructor who teaches all the subjects expected by various boards, especially CBSE, ICSE, SSC and other state boards, and helps children comply with the standards.
Dhruva Academy offers tuitions for various subjects for class 10th with different boards, including:
English (literature and language)
Science (biology, chemistry, physics)
Sanskrit
Mathematics
geography
History and civilians
Information technology
Hindi and other languages ​​ to be taught on different boards
 
best teachers for class 10 in Bangalore
Instead of teaching the content of the regular courses, Dhruva Academy has a team of teachers who engage their children in fun learning activities. Our teachers use different methods to educate your child and build strong relationships with him. Our teachers use customized learning modules to address their weaknesses and further develop their strengths. Our teachers also offer interactive sessions and the necessary environment where students can ask and ask questions at any time.
Our teaching staff consists of experienced teachers with a skilled background. Our experienced faculty team focuses on each individual student and regularly performs detailed analyzes of students' progress through weekly and monthly tests. Here, students will be properly educated and trained according to their respective board exams.
Why Class 10 Students Need tuition
All grades are important, but few are as important as class 10. This is in many ways an important part of a student's life, and academic stress can increase stress. If you are looking for class 10 maths tuition near me, our math tuition classes for class 10th address the most important topics students need to master as board exams approach. There are good reasons for most students to have access to extra tuition fees in an important part of their studies. Dhruva Academy creates waves for students across India with affordable, high-quality educational experiences. 
My son got a 10CGPA in grade 10. It's all thanks to the good guidance given by Dhruva Academy. The teachers at Dhruva Academy regularly organize tests to keep track of their performance and guide students in improving.
After studying at Dhruva Academy, I see a big difference in my performance, and the way the tutors teach is really good. They focus on clarifying the concept and provide intensive doubt clearing sessions.
To sign up for Class 10 Coaching, you must complete the registration and then pay the fee along with all the necessary documents.
More than 65% of students have questions about the topics they discussed after class or while solving the worksheet. Dhruva Academy is happy to answer individual questions, as the questions are indicative of a student's own efforts. Students are only in doubt when studying at home. Therefore, our teachers at Dhruva Academy always motivate students to ask questions, and we also hold regular sessions to solve their doubts about students to get the best results.
This year's lecture plan has been prepared in advance, taking into account all public holidays. We will also move the curriculum according to CBSE guidelines so that students can take the lead in school in terms of curriculum.