Tuition Class for Class 8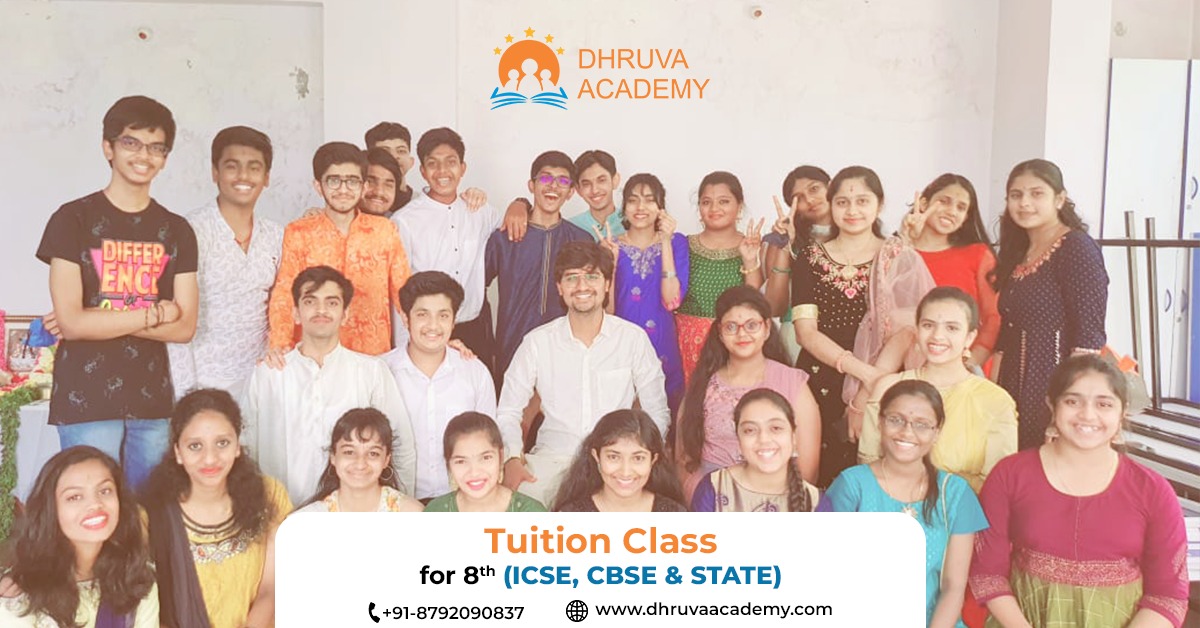 Eighth-class studies lay the foundation for advanced studies and allow students to explore endless possibilities and opportunities year after year. Therefore, learning in class 8 is very important, and students should start taking online tutoring for class 8 from the beginning. It is important that students understand all the basic concepts such as mathematics, science, SST, and English. in this highly competitive world, students are sometimes left behind due to improper guidance and support. All students can succeed in the exam if they receive proper guidance from an expert like us. At Dhruva Academy, our tuition for class 8 is tailored to students' strengths and weaknesses and can be customized to suit your academic needs.
Tuition Class for class 8 near me
Are you looking for the best tuition classes near me for class 8? Dhruva Academy is the best tuition center in Banglore, offering systematic support to all students in its 8th grade. Whether you are considering regular lessons, revised classes, or homework help. At Dhruva Academy, A team of expert teachers will provide endless support as needed.
At Dhruva Academy, the curriculum for the 8th grade is designed by subject matter experts with many years of experience in the field of education. The advanced curriculum incorporates the latest teaching methods, including a customized curriculum for students. The program is designed under the supervision of a coordinating team.
How to ensure that your child is growing in terms of learning?
At Dhruva Academy, we ensure that all students improve their academic performance and therefore offer systematic and tailored lessons for 8th grade. There is a group of qualified teachers to give the best class 8 teachers dedication.
TO ensure that your child is growing in terms of learning, we offer regular questioning sessions so that students can quickly answer their questions without having to compromise. We provide individual attention to all students who take 8th-grade homeschooling online and tailor the entire course to their abilities and skills. Our Teachers take Mock Tests, Mock Tests, and more to help teachers assess their teaching skills and track their grades. We regularly share the performance of children with their parents to help them the way their child is improving.
Subjects for Class 8 with different boards
At Dhruva Academy, the subjects that all class 8 students study are:
Mathematics
science
English
social science
E) Second language (Hindi or others)
Best teachers for class 8 in Bangalore
We have a team of best-qualified teachers for class 8 in Banglore who ensure two-way communication so students can quickly grasp the concept. Our 8th-grade teacher classes are provided by 8th-grade teachers who are subject matter experts.
Grades in grade 8 play an important role in a student's educational background. In this class, all the understandable basics will help students improve their grades even more. Our teachers offer fully tailored to the student's needs so that the student can understand the basics from the beginning.
We offer the best tuition for class 8 from experienced teachers who know how to make even the most complex classes easier to understand. No matter which boards your child is, including CBSE, ICSE, SSC, Cambridge, and other boards, our teachers provide 8th class tuition tailored to students. 
If you are studying in class 8 and struggling to get a good grade in class, do not despair. Contact us for 8th class tuition near me and start your journey to get the right education.
We have a team of very experienced professors who are very friendly and helpful. They do everything to make the subject interesting to the students.  
Our experienced class 8 teachers provide one-to-one assistance that is beneficial for students as it helps them answer their questions right away. Being experienced in the field, our teachers design the overall structure of the curriculum in a way that provides optimal lessons for class 8 with the most important aspects of the various school boards in mind. We strive to make learning easier for everyone.
All sessions held by the 8th-grade teacher are tailored to the needs of the students. Each grade 8 student will be assigned an academic expert to track performance and find ways to help improve their children.
Why Class 8 Students Need tuition
Class 8 is the most important academic year for students. Class 8 and above is the time when students not only reach the upper-grade levels but also focus more on organizational skills, time management skills, and improved learning habits. Therefore, it is important to choose a tuition center like Dhruva Academy for tuition for class 8, which focuses on helping students stay organized and start developing good lifelong habits.
At this age, children begin to change physically and socially and often face social pressure. But only at this age will students learn more about themselves and their talents and skills, and everything will only be explored at this age. Therefore, it is an important year for students to gain self-confidence and dedication, which will definitely help them throughout their careers. Signing up for the Class 8 Class Center will help students a lot.
Also, during this age, students tend to become more responsible and are mature enough to set their own priorities. The priorities identified in this chapter are likely to remain with the student for a longer period of time. Therefore, students studying in Class 8 need to focus more on long-term goals, and even a standard 8th-grade tuition teacher will focus on that.
We are a nuclear family, and we are both so passionate that we do not have time to teach our children or help with our homework every day. Dhruva Academy is the best tuition center with the best teachers helping our children with all aspects of their 8th-grade studies; we no longer have to worry about them.
Friendly faculty and staff are the first points. Students are not even aware that they are learning higher-level topics because they make conceptual learning a very natural and easy process.
The tuition center is very devoted as a whole and willing to do anything to make us successful. They have helped me in every possible way to improve my concepts and knowledge. Contact Dhruva Academy if you are looking for the best maths tuition for class 8 near me.
What is the importance of tutions for class 8?
The important and final stage of middle school or high school is the eighth grade. At this age, children reach puberty, and students need to focus diligently on understanding concepts and theories. The Indian education system guides the students to take competitive exams and get high grades. To enjoy the benefits of better jobs, we, therefore, need to sow the seeds of education in the right direction. This is where tutors can help. Tuition teachers use a simple, focused, and practical approach to help students/applicants effectively understand the structure and requirements of the exam and enable students to gain knowledge and understanding of a subject through education.
How does our tuition center work?
We provide intensive academic support in a wide range of school-level subjects. Our tutors participate in one-on-one live tutor sessions with students, offering bespoke tutor lessons and helping students learn at their own pace.
How long is each educational session?
Our education session lasts 60 minutes. We have structured the lesson plan to interact with the student and the teacher within 60 minutes. This is a threshold at which a student's learning ability is significantly reduced beyond that.
Why choose our tuition center?
Choosing our tuition center for class 8 tuition will give your children the opportunity to learn topics and concepts before they are discussed in school.
Affordable: We offer class 8 tutions at a budget-friendly and affordable price.
Quality Education: More than 1,000 students and their parents have certified and trusted our tuition center.
AI-driven learning: We also offer an online AI-powered classroom service that covers all classes and topics.
Individual teaching: Our unique learning method ensures that students interact individually with their teachers, making it easier for each of them to learn and understand the concept.
100% guidance: Our teachers provide students with a complete, agile education that triggers learning at the individual level.