Tuition Class for Class 9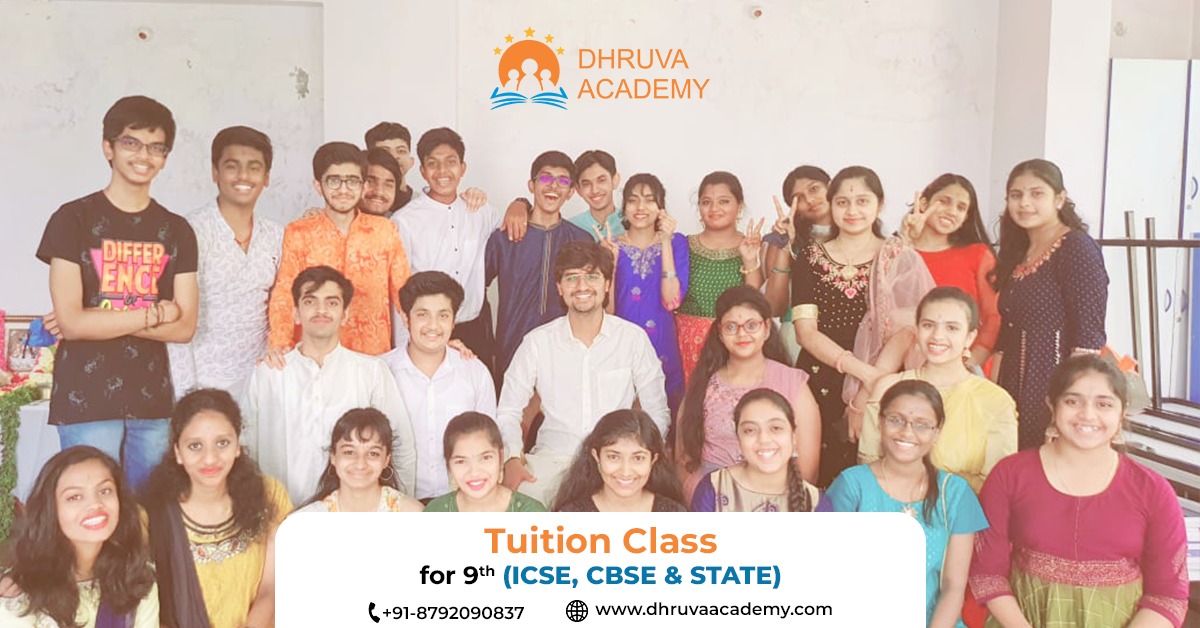 We offer the best online tuition for class 9 and provide students with the best teaching materials based on the boards such as CBSE, ICSE and other state boards. At our institute, the teachers provide the best tuition for class 9 students for the next exam and will be taught accordingly. Each topic has been carefully revised to stay in the student's memory for a long time and to get a high score on the exam. Check your students' results with weekly, monthly and quarterly tests. We focus on the individual and aim to improve their learning experience.
Tuition Class for class 9 near me
Looking for the best tuition classes near me for class 9? We are the best institute that provides Class 9 classes for all subjects such as science, maths, English, etc. Our tuition classes will allow each student to focus individually. Our class 9th tuition teachers provide a highly disciplined maths tuition for class 9 near me with 3 or more revisions so students can gain knowledge using multiple exams for each class. Our class 9 tuition institute has a team of the best teachers who focus on concepts and practical aspects to help students thoroughly understand the concept in detail.
How to ensure that your child is growing in terms of learning?
To ensure that your child is growing in terms of learning, our class 9th tuition teachers put together a different evaluation system for each class, and parents track their children's progress as follows:
Test results after completing all subjects
The quarterly result form is shared with the parents
Math sheets are handed out weekly
Subjects for Class 9 with different boards
At our class 9th tuition centre, we have a dedicated team for science tuition for class 9 near me and adopt the methodology for CBSE, ICSE and other boards to help children in all subjects, including:
English (literature and language)
Science (chemistry, physics, biology)
Social sciences (history, geography, social sciences, economics)
Hindi / Marathi / Sanskrit
Mathematics
Computer applications
Best teachers for class 9 in Bangalore
Find a 9th class tuition teacher at our tuition institute, and we have some of the best teachers from across the country. Our instructors include teachers with PhDs in related fields. Nearly 50,000 students benefit from the attractive 9th class tuition fees at our class 9th tuition institute. Quality training tailored to order from top professionals is now available at an affordable price for everyone because of the comfort of home.
Our tutors have years of experience in helping students prepare for class 9th exams for all subjects, including science, maths, English and other subjects. Their way of teaching students shows their potential contribution to student growth and learning. Our teachers take a personal approach to students and facilitate direct dialogue with them. Study plans are designed with the specific needs of individual students in mind.
Why Class 9 Students Need tuition
Class 9 is an important step as students need to focus on their subjects to build a higher class base. The entire curriculum has changed and is completely different from class 8. At our class 9th tuition institute, you learn advanced mathematics with a focus on topics such as algebra, geometry and measurement. In science, students possess a range of subjects in physics, chemistry and biology. Therefore, the curriculum becomes more complex, and it is very important for the students to keep their concepts clear. Therefore, tutions are very important for class 9th.
The institute has the best faculty and use the practical approach to make the concepts clear. The teachers are very cooperative and provide personalized doubt clearing sessions.
The institute is the best for class 9th tuition, the faculty is very experienced, the teachers provide the best study material that really helps in preparations in class 9thexams.
How can students improve their knowledge?
Students can improve their knowledge and skills in a number of ways, including:
Practice the solution regularly.

A clear understanding of basic concepts/formulas.
Solve additional exercises.
Share a positive attitude towards the subject being taught.
How can our teachers help students improve their grades and skills?
Our experienced class 9- teachers in Bangalore can help you:
Build trust with your students.
Encourage questions and make room for curiosity.
Emphasize concept understanding rather than action.
It provides real problems that motivate students to work on the topic.
Share a positive attitude towards the topic.
What does our class 9th tuition cost?
The tuition fees for 9th class all subjects depend on many factors such as teacher time, experience and qualifications. Contact our tuition centre for home tuition for class 9 to know the cost of your class 9th classes.
What is the normal duration of a class organized by teachers for class 9th?
At our tuition centre, 9th teachers take tuition sessions of one to two-hour sessions a day. However, it may vary depending on the agreements entered into between the student and the teacher at the time of employment.